"Creating a Family-Friendly Workplace" Workshop
Timeline Consultancy is about to launch a one-day workshop on "Creating a Family-Friendly Workplace" which will be held face to face in December this year.
Why to launch this workshop
The Chinese government has recently released the Human Rights Action Plan of China (2021-2025) and the Outline for Women's Development in China (2021-2030), and the All-China Federation of Trade Unions (ACFTU) has published the Guidebook on Creating Family-Friendly Workplaces. At the same time, the International Labour Organisation, UN Women and the United Nations Children's Fund (UNICEF) have issued policies and guidelines on the creating family-friendly workplaces.
Since these plans/outlines/guidelines have been introduced recently, this workshop aims to introduce the current trends, connotations, methods, ideas of creating family-friendly workplaces and implications of this topic for companies during the pandemic to corporate senior managers, CSR professionals and human resource management professionals, so as to enhance the brands and Chinese companies' understanding of this topic.
Focus of the workshop
When it comes to "family-friendly workplaces", some business managers think that it is all about employee welfare and hardware facilities such as lactation rooms/nurseries; however, international experience and the reality in China have shown that there remains a large potential for companies to create a family-friendly work environment. The "family-friendly workplace" is not limited to pure employee welfare, but a win-win situation for both the company and the employees: by developing an optimised work system, developing a work environment that is conducive to the physical and mental health of employees, supporting men and women to balance their work, family and personal lives, and enabling employees to work in a healthy state of mind and body, it ultimately enhances employee productivity and well-being, reduce staff turnover, lower corporate management costs, improve labour relations, build the employer brand and enhance corporate market competitiveness.
This workshop will:
Ø introduce international and national advocacy and trends on family-friendly workplaces
Ø elaborate on ACFTU's Guidebook on Creating Family-Friendly Workplaces, explain concepts, and share best practices
Ø inspire participants to think about how to integrate family-friendly workplaces with the current work and future strategic planning of their companies, and to develop initial ideas for creating family-friendly workplaces within their companies or supply chains.
Content of the workshop
The main content of the workshop includes:
l What "family-friendly workplaces" is
"Family-friendly workplaces" are not just for pregnant workers, mothers and children, but contain a broader focus on the needs of the workforce to balance work and family and to help employees fulfil their roles and responsibilities outside the workplace while achieving their career goals.
Creating a family-friendly workplace is one form of achieving worker well-being and is part of corporate diversity and inclusion management strategy. This workshop will explore the connection between family-friendly workplaces and "Diversity, Equity and Inclusion (DEI)" and "well-being" from the perspective of corporate policies and mechanisms.
l Why it is necessary to establish a family-friendly workplace
Family is no less important to employees than work, and only by maintaining minimal role conflict between work and life will employees be able to engage in their work to their fullest potential. Employee turnover is related to family-related factors to a large degree; moreover, the epidemic has added to the burden of running a family, causing great distress to women in particular. Creating a family-friendly workplace is of urgent relevance to both employees and companies.
l Relevant international and national policies and advocacies
ILO, UN Women, UNICEF and ACFTU have issued a series of policies/guidelines on family-friendly workplaces, which provide a framework and practical guidance for companies to carry out their work in this area. This section will introduce the relevant advocacies and guidelines and distil the most valuable information for businesses.

l Specific measures for creating a family-friendly workplace
The ACFTU has divided "family-friendly workplaces" into six modules, i.e., concept and attitude friendly, career development friendly, maternity protection friendly, care support friendly, work arrangement friendly and occupational health friendly. Companies can work on these areas specifically.
Combined with Timeline's practical experience, the workshop will inspire participants to think systematically and identify key areas for improvement within their own companies/supply chains in order to remove barriers and make a difference.

l Best practices sharing
Target of the workshop
Ø Brands that are planning to conduct or already running family-friendly workplaces-related projects, worker well-being projects, DEI projects or are looking to keep up-to-date with the latest developments in the industry
Ø Companies that pursue better sustainable development and hope to innovate in their employee relations management/CSR projects
Ø Organizations/institutions/teams that want to learn about relevant policy trends and innovative projects
Benefits of the workshop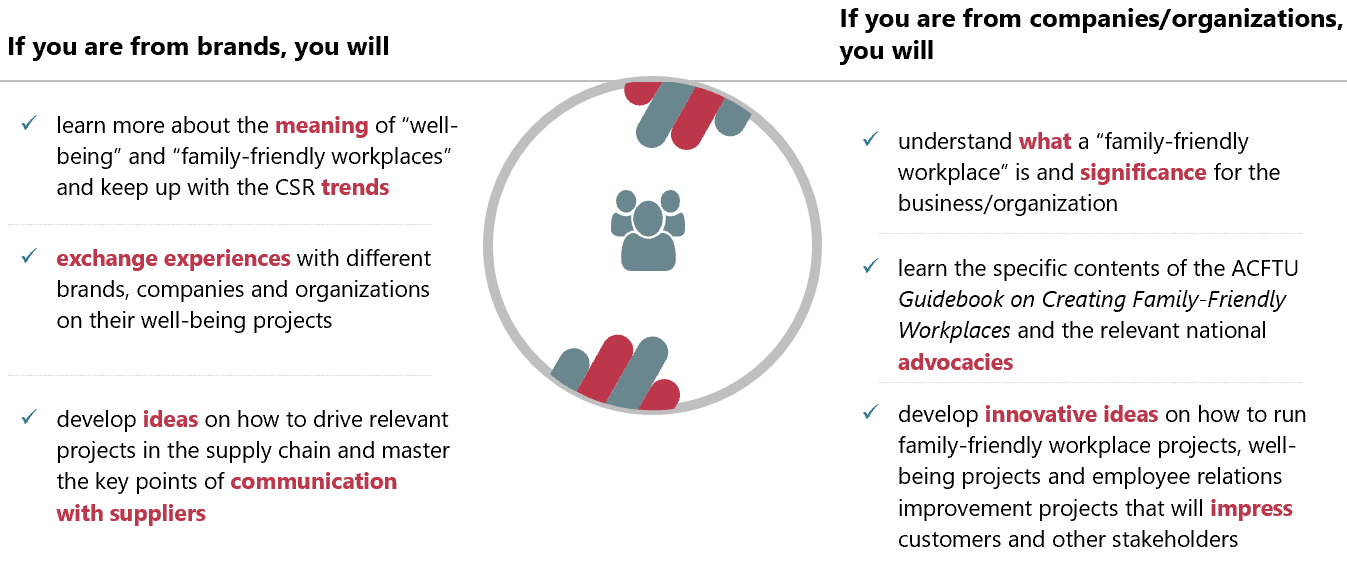 Time:

9:30-16:30, December 9, 2022 (Friday)

Venue:

Timeline's office in Guangzhou

Contact way:

Vivi Yang, Tel: 020-37616200; Email address: viviyang@timeline.com.cn

(Note: The fee above includes costs for the training and training materials printing, excluding accommodation and meals.)